20 Jun 2017, 4:30pm
Uncategorized
by
raeandskyla

5 comments
Tripawds is a user-supported community. Thank you for your support!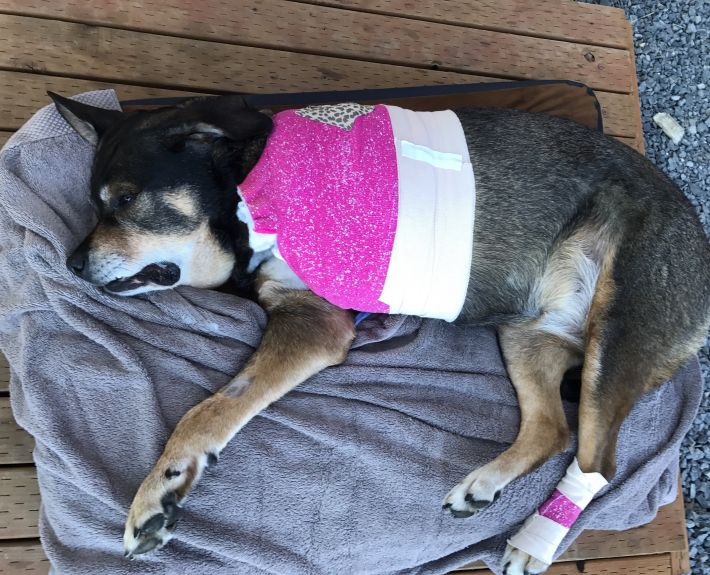 Hello friends!
I've been pretty quiet on here lately, and I apologize for taking so long to update. I think my anxiety about the upcoming surgery was getting to me. I was ready to get it behind us!
Skyla had her leg amputated yesterday, June 19th. The surgery went smoothly, no complications whatsoever. We had a wonderful team to work with, and it was clear they took very good care of her. I was able to visit with her in the evening, and although she was heavily drugged, she definitely knew I was there and tried to keep her eyes open just a peak. We transferred her to the emergency hospital for overnight care and fluids. It was incredibly hard to leave her again, but I just wouldn't be able to keep her as comfortable as they were.
This morning, Skyla got to come HOME! She even hobbled on three legs a short stretch, with lots of assistance. She seems exhausted, and I'm sure her legs seem to weigh a thousand pounds with all the medication and fluid pumping through her. We have been using her Ruffwear Urban Sprawl bed as her stretcher, and it seems to be about as comfortable as it gets for getting moved around. We set her up on the deck for a short while. The cool summer air felt amazing. She was very hot with her bandage on, so I figured a nice breeze would be refreshing!
She ate readily, took her medications, and went back to snoozing. Although I'm nervous about getting her outside and moving around over the next few days, I have no doubt that she'll be hopping around freely in no time.
We have felt so loved from friends, family, and the incredible Tripawd community. Thanks for listening and supporting us through it all.
Lots of love,
Rae & Skyla