24 Jun 2017, 3:45am
Uncategorized
by
raeandskyla

5 comments
Tripawds is a user-supported community. Thank you for your support!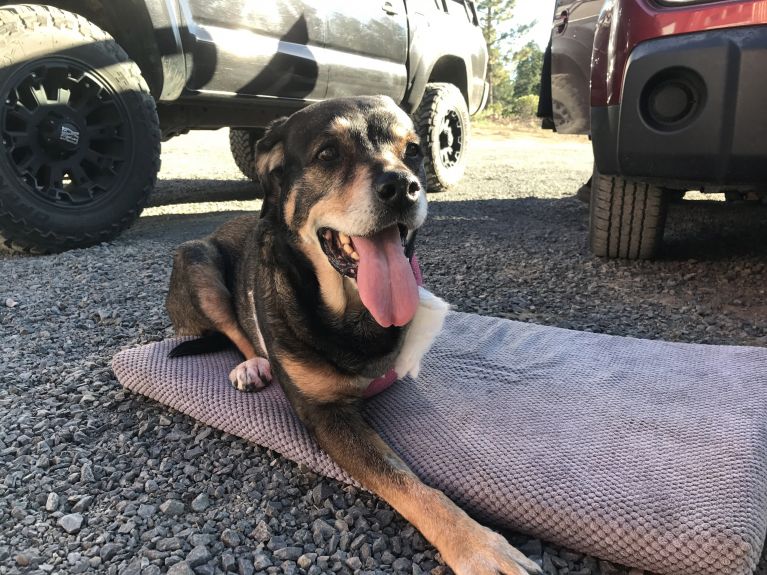 Hello friends!
We are now on day 4 post-op. I'm feel really optimistic right now! Skyla has been absolutely amazing. The past few days we have seen significant improvement in her mobility every time we go out. She's figured out how to readjust herself in her bed when she gets uncomfortable, and getting up and down the steps isn't such a big deal anymore. She wears out quickly, of course, but that's to be expected. We've been using a light bed as a "rest stop" when we are out for a potty break and she seems to get shaky. Since the area surrounding our home is all gravel, the pad helps give her a comfortable place to sit or lay down and catch her breath.
Even just today, she seems stronger every time she gets up. They really figure out how to operate very quickly on 3! I still follow her around with her make-shift sling just in case she gets weak or trips, but that's just the paranoid mom in me. This girl is rocking! She surprised me by coming out of the house, down the three steps, and over to a visitor, all without assistance! TRIPAWD POWER!
Our biggest concerns have been the lack of a poop, and a much more picky appetite than usual. We JUST got the poop taken care of – woot woot! – and I'm hoping that will help her feel better and in turn, ramp up her appetite. She's usually a ravenous lady, so to see her do anything but devour all food in front of her is concerning. After too many nasty Tramadol pills hidden in food, I think she's just really, really onto me. We missed a few pills today. She seems fairly comfortable though, so I'm trying not to stress about it.
Her bandage removal is now on Tuesday. I'm nervous but excited for that to happen! She'll also get a field trip to our regular vet on Monday for a Vitamin A&D injection (part of her cancer fighting regimen). Until then, we are hoping for a positive weekend ahead. Best wishes to ya'll for a wonderful weekend as well!
XOXO,
Rae & Skyla