27 Jun 2017, 6:33am
Uncategorized
by
raeandskyla

4 comments
Tripawds is a user-supported community. Thank you for your support!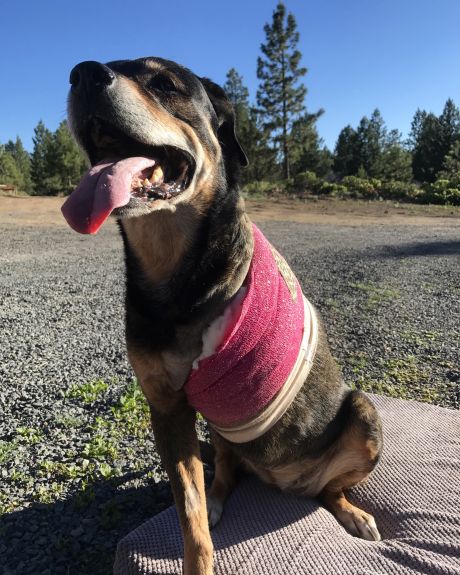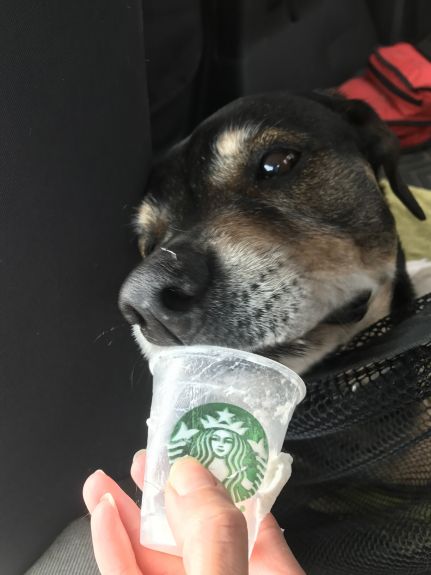 We made it one week – woot woot!
Skyla had a quick appointment with our regular (holistic) vet today. She was so excited to go for a car ride and have a change of scenery. I couldn't believe how smoothly she jumped into my car! To celebrate, we went to the Starbucks drive-thru for a little Puppachino treat. Breaking the rules, for sure!
It has been a heat wave here in Central Oregon, and between a lack of AC and that thick cotton bandage, she's been a hot tamale. We can't wait to cut that thing off! Tomorrow we head in for a recheck with the surgeon and it should be time to take it off. I'm nervous but looking forward to finally seeing the incision. I got a little peak underneath the bandage and it's looking really good, from what I can tell.
Skye's Fentanyl patch came off Friday, but her pain seems to be well-controlled. She's been eating well, taking her meds better than last week, and she has stopped whining/crying. She does seem uncomfortable at times, and will continue to readjust her positioning until she finds the best way to sleep. I've noticed her laying on her "amp side" more and more, so I'm taking that as a sign that it's not as painful as before.
Her endurance is getting better and better too! She takes less breaks, and ventures further from the house every day. I can't wait until we get the point where we can take short walks and maybe even easy hikes in the future. Trail Boss deserves to get back to the dirt!
The past few days, she has seemed a bit more depressed/quiet. I can't tell if she is just really wore out, or if she's bored/discontent. She doesn't seem to want to do much except for sleep. Her vet visit today seemed to wear her out SO much. I guess it'll just take time for these seemingly minor events to not take a toll. I'm comforted knowing this seems to be pretty normal post-op. Any feedback on how long it might take to see her want to play, walk around on her own, etc. is much appreciated!
Jerry had expressed curiosity re: her Vitamin A&D injection today. That reminded me that I never gave the run down on the food/supplement regimen we have her on! We have opted not to do chemo for a number of reasons, mainly because I believe in empowering her body as much as possible and aiming for optimum wellness more than ever before. Here's what we are currently doing:
Raw food – poultry/fish formulas from Northwest Naturals Raw
Nordic Naturals Omega Pet fish oil – high amount of omegas
Hoxsey formula – herbal cancer-fighting blend, highly recommended in holistic world
Golden paste – turmeric/coconut oil/black pepper – she's currently disgusted by it, so we ordered a silicone coffee bean mold to try to freeze little "beans" of it, maybe she'll tolerate it better!
Bixbi Immunity – mushroom blend
Herbsmith Sound Dog Viscosity powder – joint supplement (she's been on it for several years)
Pet Releaf CBD Hemp Oil – amazing for it's anti-cancer properties, pain relief
Answers Pet Food Fermented Fish Stock – smells as nasty as it sounds, but she loves it; we give her the Hoxsey formula in this to mask the taste. So good for them!
Snacks include raw goat's milk from Answers, raw meaty bones, frozen bones stuffed with canned food, freeze-dried meat treats
Vitamin A&D injection every 4 weeks – helps promote healthy cells = less neoplastic cell growth
I clearly love this dog, haha! It costs a small fortune, but I'm fortunate enough to work at a natural pet foods store part-time where I receive a discount. We may not be doing chemo, but she's on a natural "chemo" regimen! If anyone has any questions about any of these items, or has any suggestions, we are all ears.
Thanks for reading; we'll update tomorrow about how our recheck appointment went. In the meantime, have a wonderful week, friends and Tripawds!
XOXO,
Rae & Skyla