30 Jun 2017, 5:11am
Uncategorized
by
raeandskyla

3 comments
Tripawds is a user-supported community. Thank you for your support!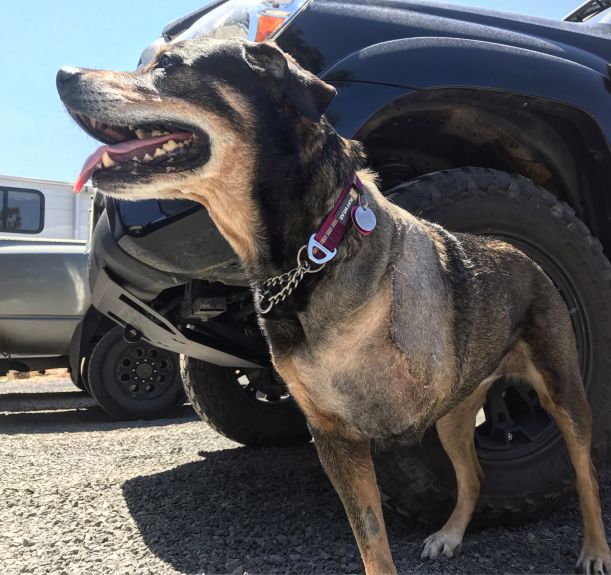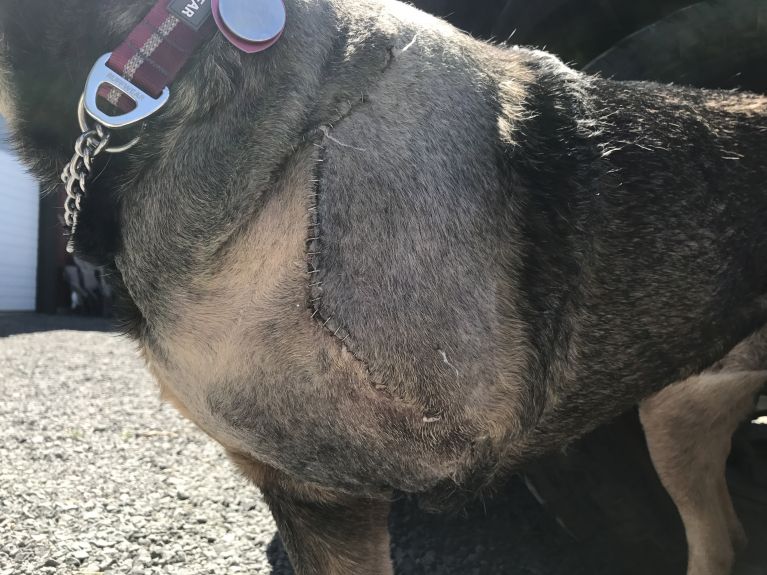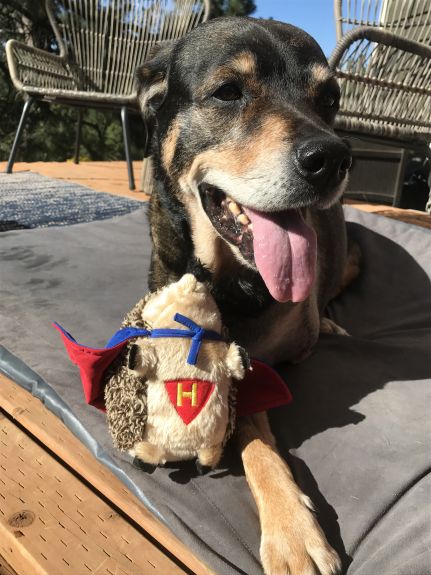 Hello again!
We had the best vet appointment in awhile on Tuesday – Skyla's bandage got snipped! The doctor and I were both pleasantly surprised and even shocked at how well her incision looked just one week post-op. He asked to see her walk outside, and she was hopping along so fast I could hardly keep up. She showed him how she tackles steps, uneven terrain, and even took a potty squat to show off. She got an A++ report and the go-ahead to start tapering off pain meds. We also talked about when to take a peek at chest radiographs again. We are shooting for 6 months out, unless any concerning signs pop up sooner. Of course it worries me just thinking about that cancer spreading, but I'm trying to stay optimistic and focus on what's just ahead of us: getting our Skyla feeling good and happy again.
We've seem some little glimmers of her spunk come back the last few days. She seems less hot and more comfortable resting now that the bandage is gone. She's still resting lots and is not interested in getting up and doing much without a little encouragement. Her appetite is pretty much back to normal, always a good sign! Every day she treks a little further outside, this morning being the furthest yet. I'm such a proud mom :)) We got a lovely care package mailed from a friend, complete with an adorable super hero hedgehog. She hasn't touched toys since before her surgery, so I had some work to do to gain her interest. She did catch it mid-air and hold it a few times, a serious victory!
The weekend ahead will bring one or two nights of camping, a big step for her. I think she'll really love all the outside time and undivided attention. We'll take it easy and let her enjoy all the sights and sounds of the woods.
We'll report back soon! Fingers crossed we see some more spark out of her over the next few days.
XOXO,
Rae & Skyla