Howdy friends!
The weekend is here! Tomorrow will mark 3 weeks since surgery for Skyla girl. She is continuing to do great! Sure, the progress has slowed down compared to the first two weeks. but we still see our little victories every day.
Her mood has really picked up lately! She doesn't seem "depressed" or as quiet as she was last week. I'm still trying to get her to play toys again, but I know it'll come back eventually. She seems very comfortable, has her full appetite back, gets up and moves around freely, etc. My only concern as of late is it looks like one of her rear legs may be bothering her slightly since yesterday. I'm just keeping an eye on it at this point. It's very subtle, or possibly just my imagination. We had an unexpected neighbor visitor yesterday, and both Skyla and her bro Clyde raceddown the driveway to check out the other dog. She may have pushed herself a little too hard then.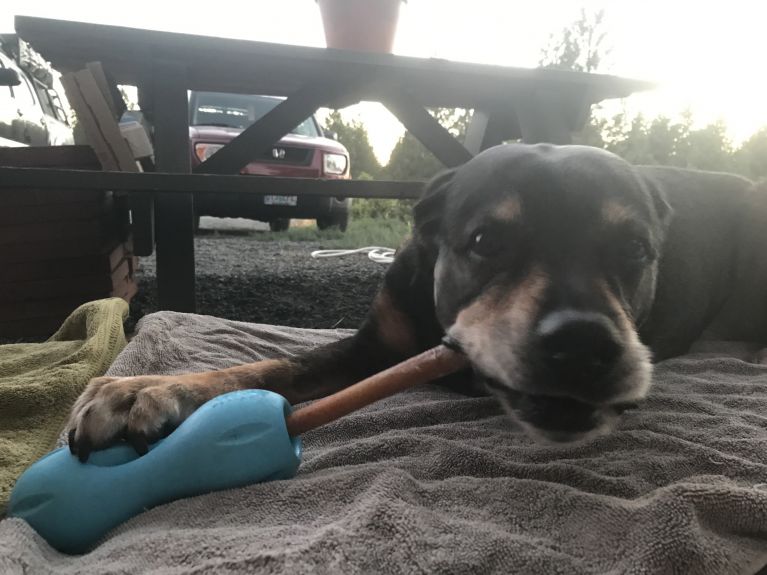 I'm not sure if I mentioned it previously, but aside from owning an on and off-leash dog hiking business, I also work part time at a local natural pet food store. We just got in a new toy from West Paw Design called the Qwizl. I was really excited because I knew right away it would help her chew on bully sticks, etc. with only one front paw. Sure enough, works like a charm! If you're interested, they are a fantastic US company who makes their toys right in Montana. They also have a one-time chew replacement guarantee! www.westpaw.com.
The week my goal is to get her out for a "walk" every morning and evening, encouraging her to go a little further each time. We are also going to go for a dip in a lake or river! With those staples out now, we are definitely ready to cool down in some water!
Have a wonderful rest of July!
Rae & Skyla